Club News
Denis Is Keeping Busy

Denis Miller has been actively carving during this pandemic and has competed some wonderful pieces.
Denis is heading up our "Empty Bowls" effort by leading all of us who are carving spoons for this very worthwhile cause. If you have not already started a spoon please contact Denis and he'll provide guidance and instruction. Bob Curtis is handing out Dave Hunter's spoon-blanks and raw material at the Club's Friday "Parking Lot Lunches".
Back to Denis and his July carving. He completed a great heart-spoon and a beautiful Christmas ornament.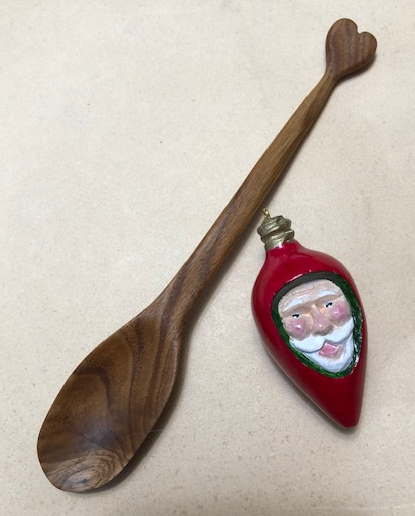 Please carve a spoon while sitting at home. It will do some good for a hungry person/family.
It is also time to start carving Christmas ornaments for our Club Annual Ornament Sale. A far as we know the sale is still on. If the venue decides to cancel the sale we will have a jump on next year's sale. Please sign but do date your ornaments in anticipation this year's sale may get cancelled.
Posted on Jul 12 2020 by Bob
© Copyright 2020 Capitol Woodcarvers