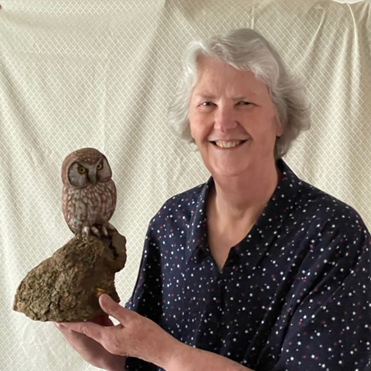 It is Capitol Woodcarvers privilege and distinct pleasure to honor Mary Davis as our Featured Carver for a second year in a row. Mary sees herself primarily as a bird carver, although she also enjoys carving other wildlife and caricatures.
Mary started her carving career in 2010 when she took a class in Mt Angel from Kenny Wilson on Saturdays. She talks about that wood duck project as, "going on forever." She was too afraid of "messing up" to take any chances. Finally, she grew weary of the pace and really started carving it on her own, and clearly has never looked back.
Mary's finesse in finish-painting is renowned. When asked about her background in painting, she first notes that her mother was a porcelain/china painter of great skill. Mary took one class on painting technique in the 1970s and then was largely self-taught in the folk-art movement of the time. Her intricately detailed, pie box is an example from this phase of her artistry.
When asked about her ability to craft anatomically correct birds, Mary mentions that her brother used to raise and train a variety of hawks. As she helped him feed them, she would observe the raptors' form. She also studies many images of her birds as she carves them.
Collaboration is an approach that Mary finds valuable. Carvers getting together with other Carvers, discussing and learning from each other, is of great importance in her process when available. Needless to say, she like all of us, can hardly wait until classes and carving sessions can begin again.
If Mary were to give advice to a beginning carver, it would be, "Don't be afraid to make a mistake. Jump in. It's just a piece of wood. If you mess up, there's always another piece where that came from."