Meet Reed & Judy Barker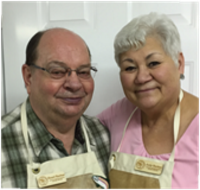 The Barkers joined Capitol Woodcarvers last April. They became interested in carving upon encouragement from Bob Curtis whom they met at a New Year's gathering. They have embraced carving and the "Club" to the extent that Reed is now our Secretary.
They are retired but are also partners in a business owned by Judy. The business utilizes Reed's skills (he's a PHD, research scientist) doing grass seed testing using DNA markers which helps the industry develop the high quality seed the Willamette Valley is famous for.
Reed and Judy have been married for 52 years and have six children (3 boys & 3 girls), eighteen grandchildren, one great grandbaby, and another one on the way. Reed enjoys fly fishing and Judy enjoys walking and hiking, however, as Reed says, "our days are divided equally spending 3/4 time on family and church, 3/4 time on our business and 3/4 time carving"
To quote Judy, "We have really enjoyed getting to know a lot of you wood carvers and feel like we just made a whole bunch of new friends; we love it"!