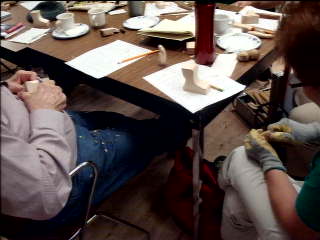 Carving Classes:
Several of our club members offer local carving classes. Chip, caricature, relief, and other carving-style classes are available.
Classes are presented either in mentored or group sessions. Participants range in skill levels from beginner to intermediate and advanced.
Please contact the class instructor to confirm class schedule, space availability, location, and other details. If an instructor can not be otherwise contacted, come to a scheduled session to participate or schedule a future class.
| Instructor | Contact Info | Class Description | Date | Location | Cost |
| --- | --- | --- | --- | --- | --- |
| Jim Harris | | Beginning to intermediate caricature carving. Students can choose a project of their choice. | Recurring Wed 9:00AM - 12:00PM | Salem Center 50+ | $7.00 |
| Denis Miller | | Beginning to intermediate caricature carving. | Recurring Mon 6:45PM - 8:45PM | Salem Center 50+ | $5.00 |